About Us
From Nasatweetup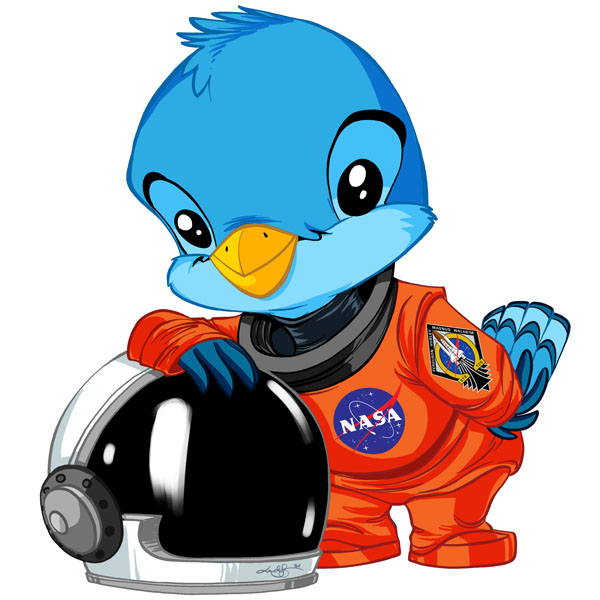 Art Credit: Lar DeSouza (
@lartist
)
Why Are We Here?
The original intent of this wiki was to help curate the experience of attending a specific Space Shuttle launch (STS-134). There were lots of tweets, blog posts, images, and video flying around the internet related to previous launch NASATweetup and we wanted to organize a little of that, and also hopefully become a bit of a centralized resource.
As NASA's Shuttle program is now officially retired, the wiki has matured to support all NASATweetup and other space-related tweetup events, including exciting missions to study Jupiter (Juno), Earth's moon (GRAIL) and Mars (Mars Science Laboratory with Mars Curiosity)! This is a community-owned and community-managed wiki site, and you can simply log in with your Twitter Account (using OAuth), so all Twitter users already have access!
Where Did We Come From?
This site was established by NASATweetup volunteer @jonverve during the STS-134/Endeavour launch tweetup at KSC, with the hope that it would be used by participants for all future NASA Tweetups! And just because 135 is the last shuttle launch, this does not mean it will be the last tweetup. Did you know there have been over 30 other tweetup events? Click here to see them all.
Who Runs It Now? Ambassadors Like YOU!
Anyone can contribute to this community-run & community-owned wiki at anytime, in true wiki fashion. For each tweetup, we try to delegate the wiki promotion and coordination to at least one tweep who is officially part of the tweetup, since a tweetup participant is best suited to that role.
You can also mention @TweetupSpace, which is an account a few of us run on behalf of this site.
Here is the history of those involved:
What Do NASA Employees Think of the Site?
See
Press
page for more info.

Beth Beck and Stephanie Schierholz speaking at European
#Spacetweetup 18 Sept 2011. Stephanie mentions NASAtweet.com!
The community wiki has received praises from NASA employees, past (@schierholz) and present (@bethbeck). One example is this video ; see minutes 135-170, especially 148-150 from this video for full context: http ://bit.ly/pjDgPG
Acknowledgements
Thanks to @techcrunch writer Devin Coldewey for the site logo. See this blog post where it originated from: NASA To Invite 150 Of Its Twitter Followers To Mars Rover Launch, September 28, 2011
Domains that forward to nasatweet.com
These are the domain names which currently forward to the nasatweet.com domain: